Empirical research is research based on evidence derived from direct and indirect observation or experience, and experimentation. If the data can be analyzed, it undergoes quantitative and qualitative research.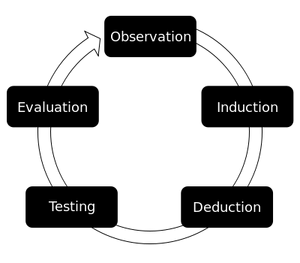 Adriaan de Groot's empirical cycle:[1]
Observation: The observation of a phenomenon and inquiry concerning its causes.
Induction: The formulation of hypotheses - generalized explanations for the phenomenon.
Deduction: The formulation of experiments that will test the hypotheses (i.e. confirm them if true, refute them if false).
Testing: The procedures by which the hypotheses are tested and data are collected.
Evaluation: The interpretation of the data and the formulation of a theory - an abductive argument that presents the results of the experiment as the most reasonable explanation for the phenomenon.
Referencres
Edit
↑ Heitink, G. (1999). Practical Theology: History, Theory, Action Domains: Manual for Practical Theology. Grand Rapids, MI: Wm. B. Eerdmans Publishing, p. 233. ISBN 9780802842947